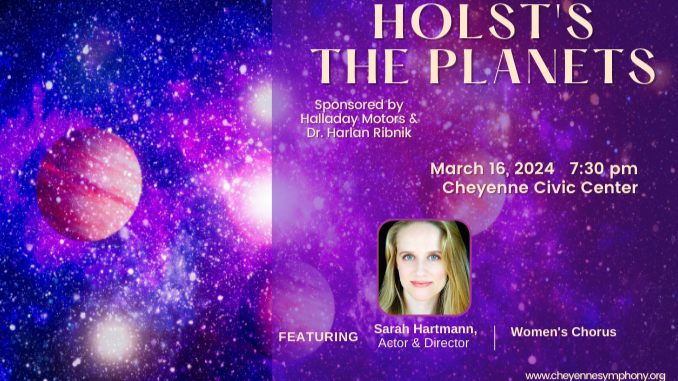 Cheyenne Symphony Orchestra
Holst's The Planets
Event Details
Join CSO and Maestro Intriligator on March 16th at 7:30pm, for a concert to eclipse all others! We welcome Cheyenne native Sarah Hartmann, actor & director, for "Music of the Spheres." You'll enjoy Holst's The Planets, Floyd's "Ain't it a pretty night" from Susannah, sung by a local women's chorus and Debussy's classic, Claire de lune from Suite Bergamasque. Sponsored by Halladay Motors & Dr. Harlan Ribnik. Guest Artist Underwritten by Harry & Lucie Osborn.

• Bates, Mothership
• Holst, The Planets
• Floyd, "Ain't it a pretty night" from Susannah, featuring women's chorus
• Debussy, Clair de Lune from Suite Bergamasque
Tickets $11.50-$53; Livestream $25 per household. Season Sponsors: Ken Garff Toyota and the Cheyenne Civic Center
As a newsletter subscriber, get the latest show announcements and the best seats in the house! Perks include the option to buy tickets before the public, special offers, and contests!