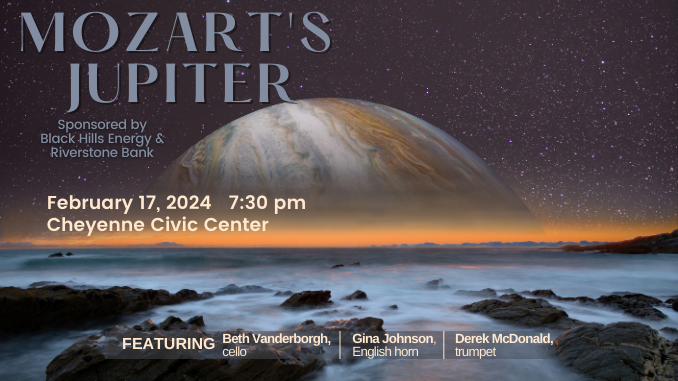 Cheyenne Symphony Orchestra
Mozart's Jupiter
Event Details
February 17th at 7:30pm, CSO and Maestro William Intriligator take you on an interstellar adventure with Mozart's Jupiter. Pieces include Copland's Quiet City, featuring Astro-videography by Judith Myers, Tan Dun's Crouching Tiger Concerto and the concert's title piece, Mozart's Jupiter! Sponsored by Black Hills Energy & Riverstone Bank. Guest Artists Underwritten by Pete & Chloe Illoway, and Cindy & Lane Lindley.

• Copland, Quiet City with Astro-videography by Judith Myers, featuring Gina Johnson and Derek McDonald on English horn and trumpet
• Tan, Crouching Tiger Concerto for Cello & Chamber Orchestra, featuring Beth Vanderborgh
• Mozart, Symphony No. 41 in C Major, K. 551, "Jupiter"
Tickets $11.50-$53; Livestream $25 per household. Season Sponsors: Ken Garff Toyota and the Cheyenne Civic Center
As a newsletter subscriber, get the latest show announcements and the best seats in the house! Perks include the option to buy tickets before the public, special offers, and contests!